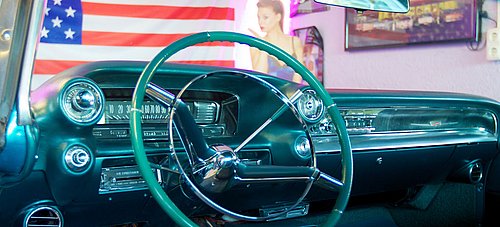 The most important means of communication is the several times a year published club magazine "Der Standard". In addition to current board news, you can read stories about our cars, reports of meetings, international news from Cadillac (General Motors and Cadillac Motor Division), travel and car buying adventures of our members, puzzles and funny stories. Articles will be accepted from any club member.

Terms and delivery of "Der STANDARD" are included in the annual fee.

Here you can download an example of the "Der STANDARD". All other editions are available for download exclusively to our club members in the members area.
Sonderausgabe zum 10. Cadillac BIG Meet 2014
Zu Ehren des 10. Cadillac BIG Meet in Kremsmünster hat die Redaktion des Classic Cadillac Club Deutschland e.V. eine öffentliche Sonderausgabe der Clubzeitschrift "Der STANDARD" herausgebracht. Hier werden die letzten 9 Treffen auf 44 Seiten zusammengefasst. Die PDF-Datei können Sie sich in der Galerie "2014 BIG Meet" herunterladen.
You want to place advertisements in our club magazine? Over 200 exclusive copies are read by all members, offer a 100% audience for your advertising.
For all companies that have to do with the topic Cadillac, U.S. car or classic car, we offer on the front and back insides of the envelope areas for your advertising in four different sizes in three price categories.
Prices, please see the following PDF file:
Sie haben einen Themenvorschlag für unseren STANDARD? Sie wollen Ihr Erlebnis mit Ihrem Cadillac berichten? Schreiben Sie uns!